Are you interested in pursuing a career in teaching but feel like you don't have enough experience to land a job? Don't worry, you're not alone. How to get a teaching job with no experience? Many aspiring teachers face this dilemma. There are ways to stand out and increase your chances of landing a teaching job with no experience.
We will cover everything from building real-world experience to understanding the differences in grade levels and subject matter. Basically, we will walk you through the certification and even offer tips on becoming a substitute teacher for hands-on experience.
How to Get a Teaching Job with No Experience
Landing a teaching position without prior experience can seem daunting, but it is achievable with the right amount of effort. Begin by gaining field-specific knowledge through substitute teaching or volunteering.
Highlight transferable skills from past work experiences in your resume and cover letter. Consider exploring alternative certification programs if you lack traditional qualifications.
To make yourself more marketable, focus on sharpening your teaching skills in a particular subject area. Utilize social media platforms like LinkedIn to connect with recruiters and potential employers.
By following these tips efficiently, you can become an attractive candidate for any school district in the United States, Canada, or Australia.
1. Enthusiasm and Passion for Teaching
To secure a teaching job without any experience, it's crucial to display enthusiasm and passion for the field of education. By highlighting transferable skills that demonstrate your suitability as a good teacher, you can impress potential employers. Obtaining relevant certifications or taking online courses shows that you're committed to developing sufficient knowledge in the particular subject of teaching.
Volunteering teaching provides hands-on experience in the classroom setting. During interviews, it's vital to emphasize your willingness to learn and grow as an educator while showcasing your communication skills.
2. Building Real-World Experience
To gain experience for a teaching position despite a lack of prior teaching experience, consider volunteering with youth programs while taking Udemy courses to develop your skills in the field of education.
Connect with other educators through social media platforms like LinkedIn to expand your network and learn about potential job openings.
Demonstrating transferable skills and a willingness to learn can help you stand out as a good fit for the position. Additionally, obtaining a substitute teaching certification or working as a tutor can provide hands-on experience while networking with professionals in the school district.
3.    Staying Up-to-Date with the Latest Teaching Trends
Staying current with industry trends is a crucial aspect of securing a teaching job with no experience. One way to achieve this is by attending professional development workshops and conferences.
In addition to attending such events, following education blogs and social media accounts for teaching tips and ideas is also beneficial.
Collaborating with other educators can improve core concepts and communication skills. Obtaining additional certifications or taking online courses shows potential employers your commitment to learning and growth as a teacher.
4.    Polishing Your Teaching Skills
To excel in the field of education, polishing your teaching skills is crucial. Gain experience by volunteering or interning in the field of teaching.
Further, attending professional development workshops, networking with educators and administrators, and highlighting transferable skills from past experiences are some efficient ways of polishing your Technical skills.
5.   Teach Online
You not only earn a salary but gain experience while being able to work from the comfort of your own home. This approach grants you the opportunity to hone and improve your teaching abilities before venturing into a traditional classroom setting.
Nonetheless, it serves as a viable source of revenue, regardless of whether you prefer in-person instruction or not.
A significant number of teachers, including both novices and experienced professionals, select the virtual platform as their primary occupation due to its convenient scheduling options and the ability to work from home of their choosing.
Understanding the Differences in Grade Levels and Subject Matter
To succeed in the highly competitive field of teaching, it's crucial to have a clear understanding of the differences in grade levels and subject matter. Volunteer work or substitute teaching in schools can provide hands-on experience and help get a feel for the classroom environment. Obtaining additional qualifications such as certifications or a teaching degree demonstrates professionalism to learning.
It's essential to highlight transferable skills such as communication, organization, and leadership that can be applied to teaching despite prior experience in different fields. Networking with educators on social media platforms like LinkedIn or directly through email correspondence can provide useful insights into job openings.
Focusing on One Subject to Excel
To stand out when applying for a teaching job with no prior experience, it can be helpful to focus on one particular subject. By choosing a topic you're and developing an in-depth understanding through reading books before volunteering as a tutor or mentor to gain hands-on experience with students.
This can include creating lesson plans and showcasing your expertise by crafting effective teaching materials that highlight your transferable skills like communication or organization. Networking at job fairs or joining LinkedIn groups for teachers can also help uncover potential positions across different fields within education.
Navigating the Certification and Licensing Process
To land a teaching job without prior experience, navigating the certification and licensing process is crucial. Start by researching the requirements for teacher certification and licensing in your state or country.
Alternative routes to becoming certified include online certification programs or working as a teaching assistant. To gain relevant experience that can help you qualify for a teaching position, consider volunteering or substitute teaching in schools.
Networking with educators and attending job fairs can also increase your chances of finding a good fit. Highlighting transferable skills from previous jobs on your resume or cover letter may improve your chances of landing an interview.
Becoming a Substitute Teacher for Hands-On Experience
If you lack experience in the teaching field but want to make it big as a teacher someday soon, becoming a substitute teacher could be an ideal option for you.
This golden opportunity allows you to gain valuable hands-on experience by working in various classrooms with different age groups and subjects.
Look for openings in your local school district or via staffing agencies. Network with faculty members at education job fairs to boost your chances of landing that coveted position. Emphasizing transferable skills from previous jobs on your resume or cover letter can work wonders too.
Reaching Out to Schools and Administrators Directly
To secure a teaching job without experience, it's important to proactively reach out to schools and administrators. Begin by researching schools that match your qualifications and interests in teaching without using the primary keyword "How to get a teaching job with no experience".
Once you've identified target schools, spend time crafting a persuasive cover letter using secondary key terms like "transferable skills" or "communication skills" along with your passion for education.
Network through social media platforms like LinkedIn or attend job fairs targeting educators and administrators to increase chances of finding the right fit. Consider volunteering or substitute teaching in particular subjects or grade levels like "high school math" or "special education" for hands-on experience before applying for permanent positions.
A Complete Guide to Getting a Teaching Job
Getting a teaching job involves several essential steps to increase your chances of success. Here is a complete guide to help you the process:
Determine your teaching goals: Identify the grade level, subject, or specialization you are interested in teaching. Consider your strengths and passions to align them with the right teaching opportunities.
Obtain the necessary qualifications: Earn the required educational qualifications, such as a bachelor's degree in education or a relevant subject. Additionally, complete any necessary teaching certifications or licenses specific to your location.
Prepare your application materials: Develop a professional resume, tailored cover letter, and a well-organized teaching portfolio. Highlight your relevant experience, educational background, skills, and any notable achievements.
Research job opportunities: Attend job fairs, join professional teaching organizations, and network with colleagues and educators. Research job openings through online platforms, school district websites, and education job boards.
Customize your application for each position: Tailor your application materials to match the requirements and preferences of each school or district you apply to. Personalize your cover letter and highlight your relevant skills and experiences.
Prepare for interviews: Research common teaching interview questions and practice your responses. Be ready to discuss your teaching philosophy, classroom management strategies, and your approach to student engagement and assessment.
Showcase your teaching skills: During interviews, demonstrate your teaching abilities through mock lessons or by presenting sample lesson plans. Highlight your ability to create an engaging learning environment and adapt to different student needs.
Gather strong references: Request letters of recommendation from former supervisors, mentors, or colleagues who can speak to your teaching skills and character. Ensure these references can attest to your abilities and work ethic.
Stay positive and persistent: Understand that finding a teaching job may take time and perseverance. Stay positive, continue to improve your skills, and take advantage of professional development opportunities.
Follow-up gratitude: After each interview, send a thank-you note or email to the interviewer to express your appreciation for the opportunity. This simple gesture reinforces your interest and professionalism.
Consider substitute teaching: Gain practical experience by substitute teaching or volunteering in schools. This can provide valuable networking opportunities and help you build relationships with administrators and fellow educators.
It's important to keep in mind that the process of securing a teaching position can differ depending on your location and particular prerequisites. It's recommended to take initiative, remain determined, and be receptive to potential prospects.
What Certificates Do You Need?
Teacher certification requirements vary by state and school district. Typically, a Bachelor's degree in education or related field is necessary.
Some states may require additional certifications or exams. Research specific requirements before applying for teaching positions are effective. Alternative certification routes, like Teach for America, may also be an option.
TEFOL Certification for Teaching English Abroad
To become an effective teacher in foreign countries like Thailand, obtaining a TEFL certification is crucial. This certificate showcases your commitment to teaching and adds weight to your resume while applying for teaching jobs.
With TEFL certification, you not only learn about the core concepts of English language teaching but also gain practical training and job placement assistance.
Researching specific requirements of potential employers on social media platforms like LinkedIn can help you find the right fit for your experience level as well as communication skills. Make sure to include transferable skills from different fields like business management of special education if they apply to you.
Sample CV for teachers in Word format
Crafting an effective CV for a teaching position involves highlighting relevant education and certifications. In addition, it's essential to emphasize transferable skills such as communication and organization, while also using powerful action verbs to describe your past achievements and responsibilities.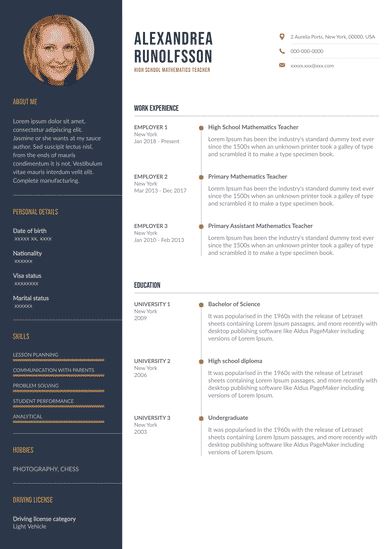 Sample CV format for teachers
[Your Name]
[Address]
[City, State, ZIP]
[Email Address]
[Phone Number]
Objective:
A passionate teacher with [X] years of experience seeking a challenging teaching position in a dynamic educational institution has shown. Committed to fostering a positive and engaging learning environment that inspires students to reach their full potential.
Education:
[Bachelor's/Master's/Doctorate] Degree in [Subject/Area of Study]
[Name of University/Institution]
[Year of Graduation]
Certifications:
[Teaching Certification 1]
[Teaching Certification 2]
Teaching Experience:
[School Name], [City, State]
[Position], [Year – Present]
Develop and implement engaging lesson plans tailored to meet the diverse learning needs of students.
Foster a positive classroom atmosphere that encourages student participation and creativity.
Utilize various instructional strategies and technologies to enhance student learning.
Assess and evaluate student progress, providing timely feedback and support.
[School Name], [City, State]
[Position], [Year – Year]
Designed and implemented a comprehensive curriculum aligned with state standards.
Established a classroom environment that promoted respect, inclusivity, and active learning.
Collaborated with colleagues to develop and execute school-wide initiatives.
Conducted parent-teacher conferences to discuss student progress and address concerns.
Skills:
Strong knowledge of [Subject/Area of Expertise]
Excellent communication and interpersonal skills
Effective classroom management abilities
Proficient in using educational technologies and online learning platforms
Adaptability and flexibility in addressing diverse student needs
Strong organizational and time management skills
References:
Available upon request
Note: This is a sample CV template that you can modify and customize to fit your own qualifications, experience, and preferences. It is recommended to save this template in a Word document and make necessary edits to personalize it according to your own details before sending it out to potential employers.
Remember to tailor your CV specifically to each job application you submit, rather than using a one-size-fits-all approach. You can demonstrate that you are the right fit for the position while also showcasing your professionalism and qualifications.
TEFL Internships with Premier TEFL
As stated earlier, opting for a TEFL internship could be the most suitable choice for teaching English overseas without any prior experience. Premier TEFL offers a diverse selection of TEFL internships across Asia, Europe, and South America. Whether you fancy relishing scrumptious noodles in vibrant Asian markets or mastering the art of tango in South America, the options are endless.
Our internship programs are designed to provide comprehensive support to facilitate your transition into a classroom Culture. These programs usually include:
An online TEFL course that is accredited and lasts for 120 hours.
Assistance with lodging or help finding a place to stay.
An orientation program that lasts for a duration of one week.
Assistance with obtaining a visa
A teaching placement for a duration of 12 weeks.
Continuous and urgent assistance
The compensation received for work or services rendered.
How to Land Your First Teaching Job?
Landing your first teaching job can be an exciting but challenging endeavor. Here are some key steps to help you navigate the process and increase your chances of success:
Polish your resume: Create a professional and well-structured resume that highlights your relevant education, certifications, teaching experience (if any), and any other skills or qualifications that make you stand out as a candidate.
Craft a compelling cover letter: Tailor your cover letter to the specific teaching position you're applying for. Emphasize your passion for teaching, your dedication to student learning, and any unique qualities or experiences that make you a strong candidate.
Network and make connections: Reach out to colleagues, and other professionals in the education field. Attend job fairs, conferences, and workshops to meet potential employers and make valuable connections. Networking can often lead to hidden job opportunities or recommendations.
Gain practical experience: If you have limited teaching experience, consider volunteering or substitute teaching to gain practical experience in the classroom. This not only helps build your resume but also provides valuable insights into the teaching profession.
Prepare for interviews: Research common interview questions for teaching positions and practice your responses. Be prepared to discuss your teaching philosophy, classroom management strategies, and how you would handle various scenarios. Showcase your enthusiasm, passion for education, and ability to connect with students.
Develop a strong portfolio: Compile a portfolio that showcases your teaching philosophy, lesson plans, student work samples, and any other relevant materials that demonstrate your skills and teaching effectiveness. A well-prepared portfolio can impress potential employers and set you apart from other candidates.
Stay up to date with education trends: Demonstrate your commitment to professional growth and staying current by staying informed about the latest educational trends, teaching methodologies, and technology integration. Attend workshops and training sessions to enhance your skills and knowledge.
Follow up with applications: After submitting your applications and attending interviews, send a follow-up email or letter to express your gratitude and reiterate your interest in the position. This shows your professionalism and keeps you on the employer's radar.
People also ask
What do you say if you don't have teaching experience?
Elaborate on how your prior teaching experience, training, and accomplishments have rendered you an ideal candidate for the current teaching position.
You may highlight any volunteering or non-teaching involvement where you had the opportunity to work with children.
What kind of questions is asked in a teacher interview?
Describe an instance when you collaborated with a group to address an issue. Share an experience when you encountered a tough obstacle.
Elaborate on a scenario where there was a sudden alteration or unforeseen circumstance at your workplace and the approach you adopted to tackle it. If you want to be a kindergarten or preschool teacher then try to read the Early Childhood Education Interview Questions And Answers and also the Kindergarten Teacher interview questions with Answers.
Narrate an event when someone provided you with feedback, and how did you manage the situation.
How Much Do Elementary Teachers Make A Month, Week, And Year?
Do you know How Much Elementary Teachers Make A Month, week, and year? The salary of elementary teachers can vary depending on factors such as location, experience, and qualifications.
On average, elementary teachers in the United States earn around $3,500 to $5,500 per month, $800 to $1,300 per week, and $42,000 to $65,000 per year. However, it's important to note that these figures are approximate and can differ significantly based on individual circumstances.
Last Word
Landing a teaching job without experience may seem challenging, but it's not impossible. Remember, enthusiasm and passion for teaching can go a long way in making up for lack of experience.
Building real-world experience, staying up-to-date with the latest teaching trends, polishing your teaching skills, and understanding the differences in grade levels and subject matter are all important factors to consider when trying to land a job as a teacher.
Obtaining relevant certificates like TEFOL certification or becoming a substitute teacher for hands-on experience can help you stand out from the crowd.
Check out our comprehensive guide on how to get a teaching job with no experience which includes sample CVs and other helpful resources to aid you in your job search.