y, Are you passionate about teaching young children and shaping their future? Then being a kindergarten teacher can be an immensely rewarding career path for you.
We'll discuss the key skills and responsibilities of a kindergarten teacher, as well as the job requirements needed to excel in this field.
We will cover the education and training required to become a kindergarten teacher, including a degree, and the key skills needed for success. We'll explore the average salary for a kindergarten teacher along with the job outlook.
Read on to learn more about what it takes to become a successful kindergarten teacher.
Kindergarten Teacher Job Description: Key Skills and Responsibilities
Basically, Kindergarten teachers are responsible for creating safe and engaging learning environments, developing age-appropriate lesson plans, observing and evaluating student progress, and communicating effectively with parents.
Kindergarten teacher job responsibilities
The role of Kindergarten Teachers is to assist young children in adjusting to primary school by equipping them with the essential knowledge necessary for their academic success. Some of the duties they perform regularly are:
Employing various tools such as games, music, books, computers, and other means to impart fundamental educational and social abilities.
Incorporating educational activities that involve play that involve physical involvement.
Guiding recognizing letters, and numerical concepts while promoting comprehension of scientific principles and the natural world.
Ensuring academic performance for the students and communicating their progress with the parents.
Incorporating proficiencies, and aims into instructional strategies
Observing the way children interact with each other and fostering a sense of collaboration.
Collaborating closely with the administration, personnel, and fellow educators.
Promoting artistic expression through the coordination of various art.
These responsibilities require competencies in elementary education, classroom management, and instructional methods.
Kindergarten Teacher Job Skills and Qualifications
Other essential skills include basic social, emotional, and physical education skills, as well as personal hygiene and letter recognition.
Enhanced pedagogical and managerial abilities
A firm grasp of academic disciplines such as mathematics and science to effectively educate students.
Outstanding ability to communicate effectively with colleagues, youngsters, and parents or guardians.
Artistic and imaginative skills
Skills in planning and organizing
Proficiency in managing time and performing multiple tasks simultaneously.
Having patience and being flexible are two important qualities to possess.
Kindergarten teachers can find employment opportunities on job boards or in public or private schools.
Kindergarten teacher job description resume sample
[Your Name]
[Address]
[City, State, ZIP]
[Phone Number]
[Email Address]
Objective:
Experienced in creating innovative lesson plans and implementing effective teaching strategies. Seeking a challenging position as a kindergarten teacher to contribute to the academic and social development of young learners.
Education:
Bachelor of Education in Early Childhood Education
[University Name], [City, State]
Graduation Date: [Month, Year]
Certifications:
State Teaching Certification in Early Childhood Education
First Aid and CPR Certification
Skills:
Curriculum Development: Design and implement engaging and age-appropriate lesson plans aligned with educational standards, incorporating various teaching methods to accommodate different learning styles.
Classroom Management: Create a positive and inclusive classroom environment, establish clear behavior expectations, and employ effective strategies for managing student behavior.
Individualized Instruction: Identify and address individual student needs through differentiated instruction, providing extra support or enrichment activities as required.
Parent Communication: Foster open and regular communication with parents, providing updates on student progress, organizing parent-teacher conferences, and collaborating on strategies to support student learning.
Technology Integration: Utilize educational technology tools to enhance instruction, promote interactive learning experiences, and develop digital literacy skills in young learners.
Assessments and Progress Monitoring: Design and administer formative and summative assessments to evaluate student progress and adjust instructional strategies accordingly.
Collaboration: Collaborate with colleagues, administrators, and specialists to develop interdisciplinary projects, plan school-wide events, and contribute to a positive school culture.
Experience:
Kindergarten Teacher
[School Name], [City, State]
[Dates]
Created and implemented developmentally appropriate lesson plans, incorporating hands-on activities, music, and play to engage young learners.
Fostered a nurturing and inclusive classroom environment, promoting social-emotional growth and building a sense of community among students.
Employed a variety of teaching strategies, including whole-group instruction, small-group activities, and individualized learning, to meet the diverse needs of students.
Utilized technology tools and educational software to enhance instruction and facilitate interactive learning experiences.
Conducted ongoing assessments and maintained student records to track progress, identify areas of improvement, and develop targeted interventions.
Communicated regularly with parents, providing updates on student progress, addressing concerns, and facilitating parent involvement in the educational process.
Actively participated in professional development workshops and conferences to stay updated on best practices in early childhood education.
References:
Available upon request
Note: Customize the aforementioned resume example to match your qualifications, experiences, and accomplishments. Incorporate any other pertinent details that demonstrate your abilities and appropriateness for the role of a kindergarten teacher.
The kindergarten teacher job description template has been shown in detail. I think it will help you to create a quality resume.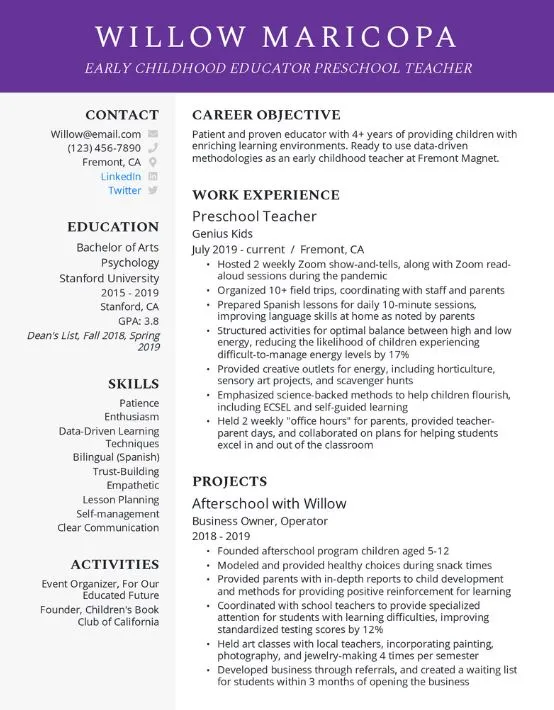 What does a kindergarten teacher do?
A kindergarten teacher creates a safe and engaging learning environment for young children, implementing age-appropriate lesson plans while monitoring student progress and providing feedback to caregivers.
Effective communication skills, creativity, patience, and a love for working with young children are essential qualities. They help students develop social and emotional skills alongside academic skills.
Kindergarten Teacher Education and Training Requirements
To be qualified as a kindergarten teacher, one must hold a bachelor's degree in education or a related field. A successful candidate should possess excellent communication skills along with patience and creativity. Classroom Culture and organizational skills are also critical for this role.
1. Educational Requirement
Kindergarten teachers typically need at least a bachelor's degree in early childhood education or a related field.
Some states may also require additional coursework or a specialization in early childhood education.
2. Certification
Most states require kindergarten teachers to be certified. This involves completing a teacher education program, which includes supervised teaching experience, and passing a certification exam.
Requirements may vary by state, so it's important to check the specific regulations.
3. Training in Child Development
Kindergarten teachers undergo training in child development to understand the unique needs and abilities of young children.
They learn strategies for promoting social, emotional, and cognitive development through age-appropriate activities and teaching methods.
4. Classroom Management Skills
Kindergarten teachers receive training in classroom management techniques to create a positive and engaging learning environment.
This includes strategies for behavior management, fostering student participation, and promoting a sense of community within the classroom.
5. Continuous Professional Development
Kindergarten teachers are encouraged to participate in ongoing professional development to enhance their skills and stay updated on the latest educational practices.
This may involve attending workshops, and conferences, or pursuing advanced degrees or certifications.
6. First Aid and CPR Certification
It is common for kindergarten teachers to obtain first aid and CPR certification to ensure the safety and well-being of their students in case of emergencies.
7. Background Checks
As educators working with young children, kindergarten teachers are often required to undergo background checks, including fingerprinting and criminal history screenings, to ensure the safety of students.
Benefits of Being a Kindergarten Teacher
There are many effective benefits of being a Kindergarten Teacher and 10 effective benefits have been given here.
Making a Difference: Kindergarten teachers have the opportunity to shape young minds and make a positive impact on a child's early development.
Joyful Learning Environment: Working with young children in a kindergarten setting often involves creating an engaging Kindergarten learning environment filled with laughter, play, and creativity.
Building Foundations: Kindergarten teachers play a crucial role in building the foundations for literacy, numeracy, and social skills that will benefit children throughout their educational journey.
Witnessing Growth: Seeing the growth of young learners, both academically and socially, can be incredibly rewarding for kindergarten teachers.
Developing Relationships: Kindergarten teachers have the chance to form strong bonds with their students and establish meaningful connections with their families, creating a supportive community.
Creativity and Flexibility: Kindergarten teaching allows for creativity in lesson planning and implementing hands-on activities that cater to the diverse learning styles of young children.
Lifelong Learning: Kindergarten teachers constantly learn and adapt their teaching strategies to meet the evolving needs of their students, fostering their professional growth.
Sparking Curiosity: Kindergarten teachers have the opportunity to ignite children's curiosity and love for learning, setting them on a path of lifelong learning and exploration.
Team Collaboration: Kindergarten teachers often work closely with other educators, and specialists, and a supportive professional environment.
Job Security and Demand: Kindergarten teachers are in high demand, with the potential for long-term career growth within the field of education.
How to Become a Kindergarten Teacher: Education and Training
To pursue a career as a kindergarten teacher, one needs to obtain a bachelor's degree in early childhood education or a related field. To become a Kindergarten teacher you have to know also Pros and Cons of Being a Kindergarten Teacher.
Gain practical classroom experience through internships or student teaching and acquire a certification or license in your state. Keep updated with educational requirements for public and private schools through continuing education.
Kindergarten teacher degree and certification requirements
To become a kindergarten teacher, one needs at least a bachelor's degree in education or another relevant field. Besides formal education, aspirants should complete student teaching experience and clear state licensing exams.
The certification requirements differ by state but may need continuing education courses.
The job requires strong communication skills, patience, and the ability to work with young children while being subjected to background checks and fingerprinting.
Key skills needed to Become a kindergarten teacher
Aspiring Kindergarten teachers must possess competencies such as creativity, strong communication skills, and patience.
Along with these competencies, having an understanding of child development is critical for creating a safe and nurturing learning environment.
Attaining a bachelor's degree in early childhood education or any related field is mandatory to pursue this career path with additional training and certification sometimes necessary based on location.
Kindergarten Teacher Salary and Job Outlook: What to Expect
Kindergarten teachers' salaries and job outlooks are positive with an expected growth rate of 4% over the next decade. They typically earn a median salary of around $57,000 per year in public or private schools.
Kindergarten teachers must possess a bachelor's degree in elementary education or special education. They should have competencies in classroom management, instructional methods, and educational requirements.
Emotional skills such as patience, and the ability to create a nurturing atmosphere are vital for success in this field.
The average salary for a kindergarten teacher
Kindergarten teachers can earn an average salary of $57,420 per year with additional benefits like health insurance and retirement plans. Qualifications for becoming a kindergarten teacher include obtaining a bachelor's degree in early childhood education or a related field while also meeting state-specific certifications or licenses.
Secondary Key terms used: elementary school, bachelor's degree, educational requirements, state certification, job outlook.
Job Outlook for Kindergarten Teachers
A positive job outlook awaits those seeking a career as a teacher in kindergarten. With a projected growth rate of 4% from 2019 to 2029, there's no shortage of opportunities for skilled educators.
Many benefits come with the position, including health insurance, retirement plans, and paid time off. Salaries for kindergarten teachers vary depending on location and experience but typically range around $57,000 per year.
Becoming one requires strong communication skills, organizational abilities, and an aptitude for working with young children.
Preschool VS Kindergarten What's the Difference?
Preschool is for 2-4-year-olds and focuses on play-based learning and socialization. Kindergarten is for 5-6-year-olds and prepares them for elementary school by teaching basic academics and social skills. Effective communication skills are essential for teachers in both settings.
Preschool and kindergarten both play vital roles in a child's early education, but there are key differences between the two:
Age Group: Preschool typically caters to children aged 2-4 years, while kindergarten is usually for children aged 5-6 years. Preschool focuses on early childhood development and school readiness, while kindergarten serves as a transitional year before formal primary education.
Curriculum: The preschool curriculum emphasizes play-based learning, socialization, and basic skills development. It focuses on fostering a child's creativity, and social interaction. Kindergarten, on the other hand, introduces more structured learning, foundational literacy, and numeracy skills, and prepares children for formal schooling.
Duration and Schedule: Preschool programs vary in duration, ranging from a few hours a day to full-day programs. Kindergarten programs are typically longer and follow a more regular school schedule, often lasting a full day.
Learning Objectives: Preschool aims to provide a nurturing environment for children to develop social, emotional, and cognitive skills. The focus is on building foundational skills such as language development, problem-solving, and social interaction. Kindergarten builds upon these skills and introduces more formal academic instruction, including reading, writing, math, and basic science concepts.
Teacher Qualifications: Preschool teachers may have various levels of formal education, ranging from high school diplomas to bachelor's degrees in early childhood education. Kindergarten teachers are typically required to have a bachelor's degree in education and meet specific certification requirements.
People also ask to know
How Much Does It Cost To Become A Kindergarten Teacher?
Do you know How Much It Costs to Become a Kindergarten Teacher? The cost of becoming a kindergarten teacher varies depending on factors such as the educational institution, location, and individual circumstances.
It includes expenses for obtaining a bachelor's degree in education, which can range from $20,000 to $40,000 or more.
There may be costs associated with certification exams, background checks, textbooks, and supplies. It's important to research specific programs and financial aid options to determine the exact cost of becoming a kindergarten teacher.
What is the job description of a preschool teacher for the resume?
Creating a thoughtful and innovative curriculum that caters to the needs of preschoolers. Utilizing diverse educational methods such as storytelling, interactive play, media, etc. to educate and instruct children.
What qualities make a good Kindergarten Teacher?
Some qualities that make a good kindergarten teacher include:
Patience: Kindergarten teachers must have patience while working with young children, acknowledging that each child has a unique learning pace and may need supplementary guidance or assistance.
Adaptability: A good kindergarten teacher can adapt their teaching methods and strategies to accommodate the diverse learning styles and needs of their students.
Creativity: Kindergarten teachers should possess the creativity to develop engaging lesson plans that capture the attention and curiosity of young learners.
Strong Communication Skills: Effective communication with both students and parents is essential for a kindergarten teacher to create a supportive learning environment and maintain open lines of dialogue.
Empathy and flexibility: Being empathetic allows kindergarten teachers to understand and address the emotional needs of their students, fostering a safe and nurturing classroom environment. Kindergarten teachers must be flexible to adapt to unexpected situations or changes in the classroom.
Organization: Kindergarten teachers who possess excellent organizational abilities can efficiently handle lesson plans and materials. This helps to maintain the smooth functioning of the classroom.
Last Word
In conclusion, a kindergarten teacher has various responsibilities that include designing lesson plans, evaluating student performance, and communicating with parents about their child's progress. I think already you've got details on the Kindergarten teacher job description with the details of the requirements.
To become a kindergarten teacher, you need to have at least a bachelor's degree in education or a related field and pass the necessary certification exams. You must possess excellent communication skills, patience, creativity, and empathy towards young children.